Welcome to the TRR Year End Splash Party!
We are rocking and rolling from here on out, celebrating the best of 2012 and looking forward to 2013!  New releases, giveaways, books, new authors and plain old fun—you'll find it all right here. :)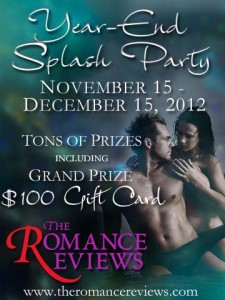 The Romance Reviews Year End Splash Party runs for a month, so you'll have plenty of time to load up on prizes and books!  But don't delay, each day features different authors and opportunities, as well as chat sessions with some of your favorites.  I'll be chatting November 27th, so mark your calendars now!  And my latest release, Whisper Privileges will be featured from November 26th thru November 29th.
My next release, Condemn Me Not premiers December 7th, 2012.  Watch for the cover to appear soon!