Preview Cover for my next novel ~ Lust on the Rocks!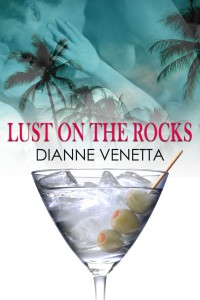 LUST ON THE ROCKS  
This is Samantha Rawlings story and I warn you:  expect a bit more spice than JENNIFER'S GARDEN.  Have you met Samantha Rawlings? The woman tends to have a one track mind–until Victor Marin, that is.  She has what he needs, and he won't stop until he gets it.  Trouble is, what begins as a matter of death, becomes a matter of life.
One case away from partnership, Samantha Rawlings is forced to share her high-profile case with a sexy younger man, whose eyes are on a different prize.  In the best interests of her client, Sam opens the door to his strategy.  Turns out, a little too far…
Victor Marin has ulterior motives.  The defendant in her case holds the key to his revenge, and his last chance for justice.  But as he chases old demons, he uncovers a powerful woman with no inhibitions, one he wants to possess for himself.  But decidedly single, Sam wants no part. Until Vic walks away.
LUST ON THE ROCKS embodies the conflict between a woman's lust for sexual freedom and her desire for love and commitment.  Sam is a tough-minded lawyer in Miami, Fl who has no interest in marriage or children and lives her life as she sees fit.  She conducts her life by the social rules that govern men.  But can her personal lifestyle choices—specifically her sexual ones—mirror those of a man?  Are there different rules regarding what's acceptable for a man versus an independent career woman? Does it matter how many partners she has, how she approaches them?
 
The main plot works off a legal case that Sam is prosecuting with the assistance of a new hire, Victor Marin.  His interest in her case goes beyond the legal front he assumes with her and instead, is quite personal; it involves revenge for a personl loss fifteen years prior.
As they work together, the two engage in a physical relationship, but what starts out as purely pleasure–lust–turns into deeper emotions for both of them.  Complicating matters is the subplot involving Sam's younger sister Jessica.  Her turmoil quickly pulls Sam and Vic into conflict regarding personal choices and decisions, ones that reach far into their relationship and force Sam to re-evaluate what she thought she wanted from life.