Authors in Bloom Blog Hop is Almost Here!
April 9th –April 18th
10 Days of Giveaways-Gardening Tips-Recipes-and more!
Plus GRAND PRIZE you'll be digging to win!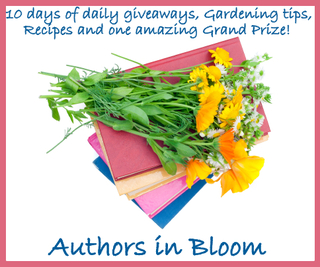 What kind of prize are we talking about?  How about an eReader (Nook or Kindle — your choice) and $25 gift card? PLUS you'll have the opportunity to win at 75 author sites, everything from books to swag and garden goodies galore!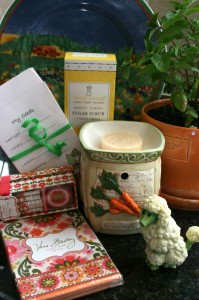 As for me, I'll be offering up a selection of garden-inspired delights including a wax melter for your fragrance tarts (Cilantro Clementine included), Vera Bradley napkins and pencils, sugar scrub by Deep Steep (grapefruit & bergamot scented ~ mmmm….), custom-seed saving packets by BloominThyme, a garden help booklet, adorable little "cauliflower" poodle figurine from Enesco and more! ($55 value, plant & plate not included)
Easy and fun, this is THE way to welcome spring.  So what do you say?  Are you in?  Need more information?
Of course you do!  Head on over to the Authors in Bloom blog hop page for full details and make sure to mark your calendars for April 9th.  It's going to be 10 days of nonstop fun and giveaways you won't want to miss. :)  
Happy Spring!