Why I LOVE Pink Bras
Not that they're practical by any means, because they're not. Unless you're a seventeen year old girl interested in drawing attention to your under garments. Me? I wear a lot of white T-shirts making pink bras non-conducive to my attire.
But they're too cute not to wear. I mean, who doesn't feel delightful when wearing hot pink? It energizes me every single time! And hubby? Never know when he might want to have a think pink fest of his own.  (Don't mind if I do!)  This young man reminds me of Victor in my current release, Lust on the Rocks. *yum*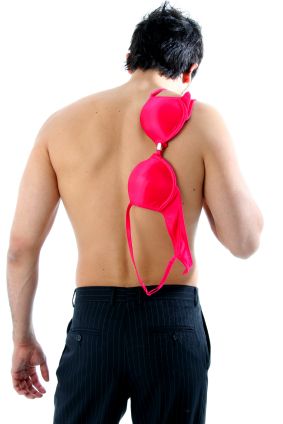 Pink is pretty. It's the ultimate in feminine and totally sexy. It can be frilly or spicy, depending on how you wear it. And it's memorable—especially on blondes.  And I'm blonde. Okay, not naturally—but who's checking roots? 
Now mind you when I say "memorable" we're not talking memorable as in that's what the emergency crew will be thinking in the unlikely event you're in an accident." Didn't your mother always tell you to wear clean underwear in case of accident?
Mine did and I found it to be wholly depressing. Listen, I'm as prepared as the next gal, even for the unexpected.  But planning for an accident? No can do. I'm a believer in HEA and anything less simply will not do.
So back to happy thoughts and pink bras.  I love them!  They're fun, romantic and oh-so-irresistible.  How about you?  Do you have a favorite color?