Gallery: Miami
Where Character's Come Alive
Ever wondered what Jennifer Hamilton's neighborhood is like?  Sam Rawlings?  How about the scenic tour Sydney Flores gives her man, Clay Rutledge?
Like the sight of their first dinner, first (real) kiss…
Just for fun, take a look at some of these for a sense of where my characters live and love.  For starters, imagine Sam's condo in one of the high-rises to the left, her office to the right.
Jennifer lives in beautiful Coral Gables where many homes resemble this one.  I love the Mediterranean influence, the mature landscaping and the brick driveways and streets.  It's an elegant area and one of the originals to the area.
The tree-lined road below is known as Old Cutler.  Located in the Gables/Coconut Grove area, it's a gorgeous drive lined with beautiful old Banyan trees, their roots dripping down to the ground from their enormous canopies.
This shot was taken at the end just off LeJeune Circle where Sunset Drive, Old Cutler and LeJeune Road come together (and the private Cocoplum residential area).  The other end is quite far south (SW 216th street), well past the Charles Deering Estate. After Hurricane Andrew, these trees looked as if they'd be topped off by a massive lawn mower.  I was there in the days after the storm and it was a devastating sight to see.  But now?  It's heartening for me to see them standing as magnificent as ever, host to a stream of bicyclists and Sunday drivers.  Can you blame them?
I myself used to ride bikes along this road with my younger brother, albeit we stayed on the sidewalk.  (I was only in middle school and too afraid of riding so close to cars!)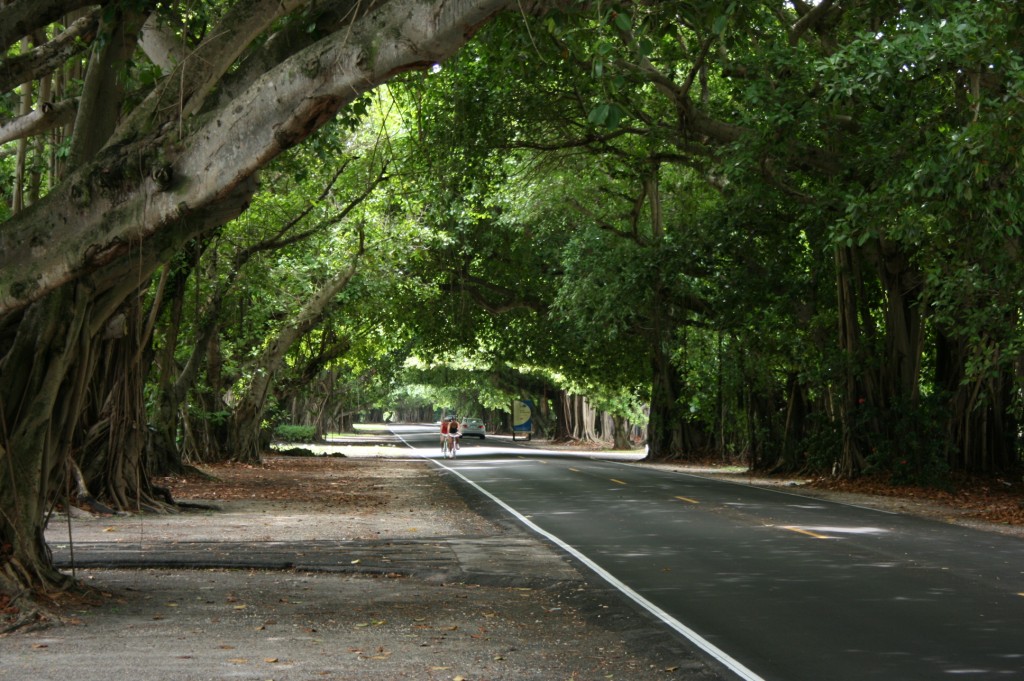 Sydney and Clay shared their first kiss after an intimate dinner in Coconut Grove (the first of several) not to mention a couple of delicious Sangrias!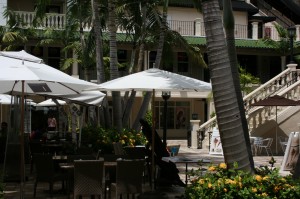 The fictional restaurant Majorca is located in Cocowalk, an outdoor commercial area with a mix of dining, shopping–even a movie theater.  The spot is only minutes from Jax's house and don't think he and Jen haven't been there a time or two!
Common to all three women is their appreciation for Royal Poinciana.  Also known as the Flame Tree, one look at the vibrant orange blooms and you'll know why.  Grown in tropical regions, this tree is a staple in the South Miami/Gables area and blooms May through June.
What do you think?  Do these beauties deserve all the attention?  Even better in person, up close, on a sunny day.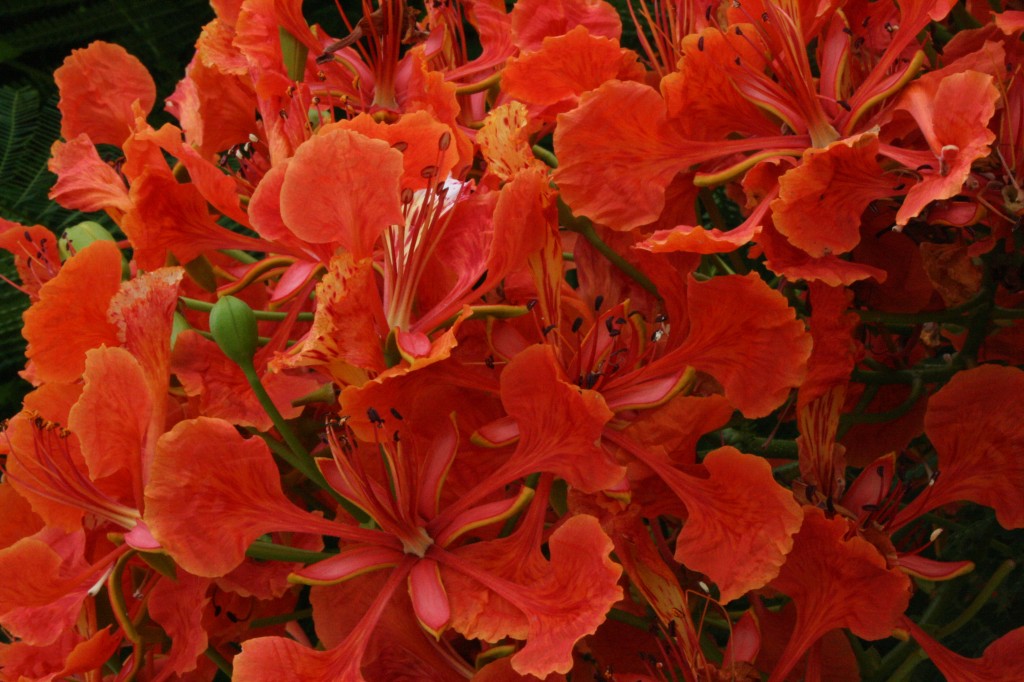 All of these photos were taken on a recent trip to Miami, visiting area bookstores for the release of Whisper Privileges.  Although I haven't lived in the city for over twenty years (I'm dating myself!), I still love the feel of the town.  It's grown, it's changed–I almost couldn't identify my childhood home!–but it hasn't lost its charm.  From South Beach to South Miami, it's a great place to live or visit. 
Do you have a favorite place in Miami?  I'd love to hear about it! :)