Gallery: Barrel of Books & Games
Book Signing
What a fun place, just like the name implies!  Tucked away between gelato and real estate, this bookstore is loaded with great books and fun games, offering a complete selection of your favorites, both new and used.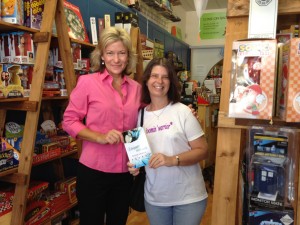 It was also the venue for my recent book signing.  And you know I'm always THRILLED when a Bloomin' Warrior arrives on scene ~ these gals ROCK!
This time it was Heather who paid me a visit.  Not only is she a Bloomin' Warrior, but she's the reason my books are now available at Barrel of Books!  She and the owner, of course.  A big thank you to Crissy for hosting me this afternoon!
If you're in the market for books, this woman has what you need.  And if she doesn't?  She'll get it and quick.  It was a pleasure to watch her in action, recommending books, recalling her entire inventory by memory.  Impressive.  And she's friendly, too!
I made some new friends today as well, including Sue!  A budding author herself, she bought her first Dianne Venetta novel. *cyber hugs* Hope you enjoy!
As an added treat (okay, lure, but no one's calling it that :)), I served up a little Rosemary Lemonade.  It's a favorite recipe from my garden blog BloominThyme and I think most folks today concurred ~ delicious!
But I can't leave this visit with a mention of the house cat.  This adorable feline lives at the bookstore and greets all who enter with a purr and the ever handy request for love.  You'll want to oblige.  She's soft and sweet and irresistible. The kids will love her.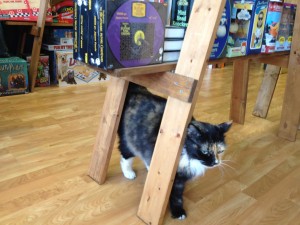 Books, games AND cats?  Can't beat that.  So next time you're in the market for a good book and you're one of those who loves the feel of a real book in your hands, this shop is a must stop.  A little stroll through Historic Downtown Mt. Dora, a little lunch at your pick of wonderful restaurants, followed by an indulgent trip to one of the candy shops and you're in for one enjoyable day.  Located right on Lake Dora, it's truly a beautiful place to visit.
And remember, if you enjoy the read, authors LOVE reviews ~ much like this fabulous feline LOVES attention.  We're able to do what we love because of readers like you.
P.S. I'm really not that tall, but three inch heels will do that for a gal!