Lovin' Me Some Summer Romance!
Read any good books, lately? I have. But that will happen to a gal attending the RWA National Convention. Strolling the floors and ballrooms there are books and authors everywhere! While this convention is geared toward romance authors, remember: we are all romance readers. It's fitting, don't you think? Like soft moonlight and kisses, morning coffee and sweet confessions, romance authors love stashing away on a chair (see the most popular cushions for office chairs) at the shore line with a good book.
Some of the recent gems I've discovered are Love at First Sight by Lori Wilde, The Marriage Ring by Cathy Maxwell, Beach House No. 9 by Christie Ridgeway, Heart of Glass by Christy Hayes, Just One Day by Sharla Lovelace, Game On by Tracy Solheim… Truly, there are too many to list. But they're all good. And who doesn't love a good book?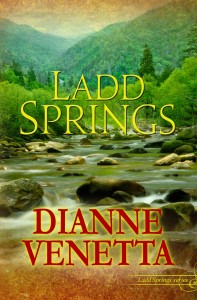 In the spirit of discovering new authors, I'm putting up 5 copies up for giveaway of the my current series' premier, Ladd Springs (ebook or print)  — available for US and International book lovers. Book #2 (Ladd Fortune) has already been released with book #3 (Hotel Ladd) due out this month. Watch for books #4 and #5 to be released October and December of this year!
Set in the eastern mountains of Tennessee, Ladd Springs is an action-packed romantic suspense light (light as in no graphic content suitable for nightmares!)
Delaney Wilkins finds herself at odds with hotel developer Nick Harris over a deathbed promise and a mysterious find in the Tennessee forest.  Both are after title to Ladd Springs, a mecca of natural springs, streams and trails in the eastern Tennessee mountains, a tract of land worth millions.  But Ernie Ladd, current owner of the property and uncle to Delaney, is adamantly opposed to them both.
Felicity Wilkins, Delaney's daughter, deserves to inherit her family's legacy as one of the best guitar players, but neighbor Clem Sweeney is working against her, ingratiating himself with Ernie Ladd.  Clem is also harboring a secret that will make him a very wealthy man—unless the others stop him before he can bring it to fruition.
Complicating matters is Annie Owens.  Ex-girlfriend to Jeremiah Ladd, Ernie's estranged son living in Atlanta, she declares her daughter Casey is Jeremiah's, making Casey every bit as entitled to the property as Felicity—only Annie hasn't proven this claim.  Yet.
All are fighting to get the property, but only one will walk away with the gold.  Which will it be?  Find out in the first installment of Ladd Springs…