It's a "No Strings Attached" Giveaway!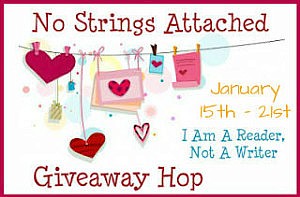 And I mean "no strings attached" at all. Win a $10 gift card to Amazon, Barnes & Noble — you name the book retailer — all you need to do is leave a contact email. That's it. For real!
Hosted by "I Am A Reader Not a Writer," this hop offers nothing but good fun and lots of prizes. Now that's what I call warming to the heart on a cold, blustery January day! And what better for a cold day than to cozy up with your favorite book?
If you're new to my website, LADD SPRINGS is about as cozy as they get. A bit of mystery, a bit of romance, this 5 book series takes you on a whirlwind of adventure of drama and family feuds in the eastern Tennessee mountains, including fiesty females and charming heroes. It all begins with a heated battle for the property rights to Ladd Springs and ends in an explosive grand finale of trouble, trauma and triumph.
And in the spirit of "no strings attached," you can download book 1 in the series for FREE (ereaders only) but hurry, offer valid for a limited time only!