April 7th – April 16th 2014
10 Days of Giveaways-Gardening Tips-Recipes-and more!
Plus GRAND PRIZE you'll be digging to win!
How it will work:
Authors participating will post their giveaway, gardening tip, recipe or both on their website, beginning April 10th and leaving their contest open through the 19th.  You will have 10 days to enter each individual author contest and then submit your entry for the grand prize!!  To win the grand prize, you must visit each and every author on the hop.  Each site will post the links of participating authors but please feel free to visit www.diannevenetta.com or www.acozyreaderscorner.com to find the linky list at any point in time.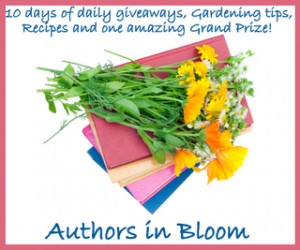 How do I submit my grand prize entry and be entered to win a Nook or Kindle (my choice)?
Simply leave a comment on each author's site and you'll be eligible to win the Grand Prize: a Kindle or Nook and $25 worth of books!!!  (Winner's choice which ereader)  Visit every author's site and increase your odds of winning!
Winners will be submitted and announced on the landing page at www.acozyreaderscorner.com. 
What can I expect out of this hop?
Each author will be posting a giveaway, gardening tip, recipe or both!  It's a spring celebration designed to introduce you to authors and give you a chance to win prizes!!
What's required?
FUN!  Find new authors, new blogs, new tips & recipes (not to mention the chance to win in one of over 50 contests).
What will be given away?
Everything from books to swag, promotional products and more!  And of course, an e-reader and $25 dollars' worth of books of your choice to load on it!
What do I do when it's all over?
By April 21st we will post the grand prize winner(s) on the main page.  We will also post the winners from each author's website.  You will be required to claim your prize according to each giveaway's terms and conditions.  The grand prize landing page is simply a one stop tool for discovering who won each contest.
Questions??
Please feel free to contact us!  Tiffany: acozyreaderscorner@gmail.com or dianne@diannevenetta.com