Events
7th Annual Authors in Bloom Blog Hop
Monday April 18th — Wednesday April 27th 2018
10 Days of Giveaways, Gardening Tips, Recipes and More!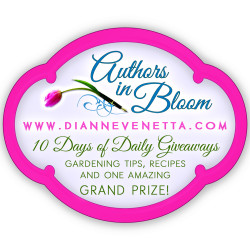 Plus a GRAND PRIZE you'll be digging to win!
How it will work:
Authors participating will post their giveaway, gardening tip, recipe or both on their website, beginning April 18th and leaving their contest open through April 27th.  You will have 10 days to enter each individual author contest and then submit your entry for the grand prize!!  To win the grand prize, you must visit each and every author on the hop.  Each site will post the links of participating authors but please feel free to visit www.diannevenetta.com to find the author link list at any point in time. Some authors might offer more than one entry to win like a "follow" on Twitter or a "tweet," maybe even a visit to their Facebook or Pinterest page. However, only one is required to enter.
What will be given away?
Everything from books to swag, promotional products and more! The GRAND PRIZE is an ereader of your choice (up to $200 value). A second prize of $25 gift card for winner's choice of book retailers, available to US and INTL residents, except where prohibited by law.
Authors will note US or INTL for their giveaway eligibility. Where US or INTL is not specifically noted, US eligibility will apply. The grand prize is available for US entrants only. Winners will be announced on the landing page, BloominThyme.
How do I submit my grand prize entry?
Grand prize entrants will be entered via a Rafflecopter giveaway widget, available on the initial and final landing page of this hop, located on BloominThyme.  All entries (and actions) will be verified to deem winners.
What can I expect out of this hop?
Each author will be posting a giveaway, gardening tip, recipe or both!  It's a spring celebration designed to introduce you to authors and give you a chance to win prizes. Individual authors may offer more than one chance to win their individual giveaway, so increase your odds and enter them all!
What do I do when it's all over?
By April 29th we will post the grand prize winners on the main page and the landing page.  Individual authors will announce and contact the winners of their author-specific giveaways. You will be required to claim your prize according to each giveaway's terms and conditions.
Questions??
Please feel free to contact me!  dianne@diannevenetta.com
"Giveaway ends April 29th at 11:59 PM EST. Open to Legal Residents (18 years of age or older) of the US only. Prizes cannot be shipped to PO Boxes. Winner will be selected by Rafflecotper.com and be notified by email. Winner will have 48 hours to respond before a new winner is selected. Please note that Dianne Venetta, host of the Authors in Bloom Blog Hop, is not responsible for sponsors that do not fulfill their prizes. I have represented each sponsor with the expectation they will fulfill their prize and in a timely manner. I will contact the sponsor regarding your prize(s). The sponsors, in most cases, are shipping their items to you directly. I will make every effort to assist you in obtaining your prize. If there is an issue with a sponsor, please notify the blog you won a prize from within 30 days for assistance, after that we may be unable to assist you. The product provided for the review was free of charge from the company. The product offered for the giveaway is free of charge, no purchase necessary. My opinions are my own and were not influenced by any form of compensation. Facebook, Twitter and Google+ are in no way associated with this giveaway. By providing your information in this form, you are providing your information to me and me alone. I do not share or sell information and will use any information only for the purpose of contacting the winner." VOID where prohibited by law.
Participating Authors and Bloggers, enter here…