Clearing My Bookshelf Giveaway!
I'm clearing my bookshelf this week, along with a hundred other friends and authors—one of which came up with this dandy idea:  why not give our old books away?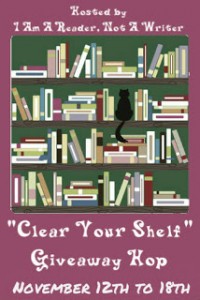 I like it!  My bookshelf is stacked full of books I've read, reviewed, couldn't get through, don't have time for…  Well, you get the picture.  And now is the perfect time to clear the debris and make way for more.  (I am a reader AND a writer.)  With the advent of the ereader, I do buy a lot of ebooks.  But like many of you, I enjoy the feel of a book in my hands—especially at the beach, in the bathtub, by the pool on vacation—a paperback wins, hands down.
So as I plan my reading list for the new year, why not give away some of the books I've read?  I rarely read a book twice (unless of course they're self-help or cooking—both of which I need to read and re-read :)).  What good are they doing on my shelf? Perhaps one of you may enjoy them.
Well here's your chance.  This week I'm giving away …. PLUS a pack of my bookmarks/garden tips and recipe cards!  And it's simple to enter.  Simply leave a comment below and you'll be entered to win!  While you're here, check out my Bloomin' Warriors Street Team!  If you like romance, have I got a year planned for you!  In 2013 I'll be introducing my new series, Ladd Springs.  Set in the mountains of Tennessee, this one will pack a punch of mystery, revenge, twist plots and of course a rollercoaster ride of romance.  As a street team member, you'll receive sneak peeks, special discounts and unique gift items, not to mention your very own Bloomin' Warrior T-shirt!
For those interested in Women's Fiction, my debut WF novel Condemn Me Not premiers this December.  Don't miss a second of the fun.  Sign up to receive email notifications from my website ensuring you'll be the FIRST to know.
For those of you interested in sampling my current series, be sure to head on over to Goodreads Monday 19th for my one time giveaway of the complete box set!  Enter to win a copy of all three:  Jennifer's Garden, Lust on the Rocks and Whisper Privileges.  Already read them?  (Thanks!)  It would make a great gift!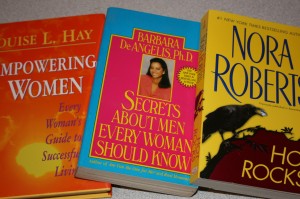 The books I'm giving away are all about women~~ as are my novels.  The first is Empowering Women by Louise L. Hay.  If you haven't read anything by this woman you are missing out.  More than great insight, she writes with humor and gives very practical tips on how to improve your outlook and thereby improve your life.
The second is a book everyone woman should read before she says "I do."  Secrets About Men Every Woman Should Know by Barbara DeAngelis, Ph. D was a hilarious read and right on when it came to understanding men.  Currently on the dating scene?  You need this book.  Married already?  This book will smooth the "rough" spots.
Of course the third is all about romance.  Hot Rocks by Nora Roberts is yet another one of her romantic intrigues, complete with delicious hero and awesome heroine.
Pssst.  Jennifer's Garden is still FREE for your ereader but HURRY—final days…