Excerpt: Hotel Ladd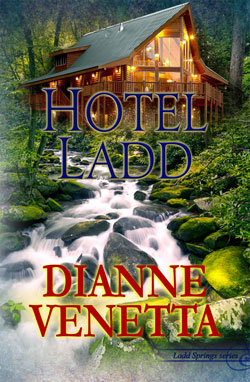 Book Three: Ladd Springs Series
Chapter One
Annie Owens fiddled with the business card in hand, the matte finished paper growing worn from her constant handling. Colored green and tan with flecks of natural fiber, the earth-friendly tone of the company card was clearly communicated. Eco-Domani. Annie's gaze slid down to the name embossed in the lower right corner. Jillian Devane, President and CEO.
"What are you gonna do?" Candi Sweeney asked, a nervous edge creeping into her voice.
"I don't know," Annie murmured.
"She seemed real intent on talking to you."
Annie nodded, dropping her gaze to two half-eaten sub sandwiches on the coffee table before them, food Candi had graciously picked up on her way over after work. Her friend understood this was a significant development. Annie had to do something.
Six months ago Delaney Wilkins had signed over half of Ladd Springs to Annie's daughter, Casey. Ladd Springs, the mecca of rivers and streams, mountains and trails and springs—natural springs that were unique to the property—had been held by the Ladd family for generations. Delaney's uncle, Ernie Ladd, had recently passed away, willing the entire tract to Delaney's daughter, Felicity. Because she was blood kin.
Well, so was Casey. Ernie's son, Jeremiah Ladd, was Casey's father, making her equally entitled to the land. The logic was simple. It was Ladd land and she was a Ladd. Unfortunately, Annie had to prove the fact first, a process Jeremiah fought her every step of the way. But after battling him for years, she finally won when he showed up in town six months ago looking for his piece of the land. Ernie had refused him outright. He was willing it to Felicity and no one else. In the end, Jeremiah landed himself in jail for an unpaid gambling debt, Ernie died and Felicity received title to the property. Annie had secured her paternity test and proved once and for all, Casey was Jeremiah's daughter making it impossible for Delaney to ignore her rights. Eighteen long years and a paternity test had proven it beyond a shadow of a doubt. Annie's daughter was a Ladd. It was the reason Delaney acquiesced and signed over half of the property to Casey.
But the property consisted of hundreds of acres. If she were to keep the property, Annie had to think, plan, strategize—but it was the details regarding what to do that were tripping her up. This was out of her league. She didn't do financial calculations. She did fingernails! A flurry of angst peppered her chest. Flipping her gaze out through the back windows of her apartment, Annie latched onto a range of mountains. Saturated by a late afternoon sun, the Blue Ridge Mountains were ablaze with orange, red and gold, clumps of green tucked here and there in between. Beyond, the sky had cooled to a bluish-lavender. Fall was upon them, dropping temperatures into the upper thirties for the third day in a row. There was even talk of snow.
Seated on the couch in the living room of the two-bedroom apartment she and her daughter called home, Annie looked to Candi. Concern scored her dark brown eyes, her heart-shaped face framed by stick-straight hair that fell in flat-ironed points across her shoulders. Naturally brown, highlighted by chunks of blonde, her hair was perfection. Candi was a hairstylist, her best friend, the only one who understood what was at stake. "Annie? Are you listening?"
Caught by a sudden chill, a shiver raced through Annie. What was she going to do? She knew what she wanted to do. She wanted to call Ms. Devane. She wanted to speak with her about the financial potential of her share of Ladd Springs. Casey's share, Annie corrected. Over six hundred acres of pristine forest snaked with rivers and streams and loaded with springs she now owned. Trouble was, now that Casey retained title to half the property, Annie had to figure a way to afford it. That part wasn't as simple.
"Do you think this woman can help?" Candi pressed, hanging on the edge of her seat. She'd been Annie's closest ally throughout and truth be known, the reason Annie and Casey held title to the property. If Candi hadn't called Jeremiah back home from Atlanta, none of this would have happened. Casey would not have title to the property and Annie would not be in a position to earn money from it.
"Maybe."
"She seemed real eager to talk to you when she gave me that card." Upon receiving it, Candi had immediately rushed to Trendz, the salon where Annie worked as a nail tech and delivered both business card and message. Please have Ms. Owens call me at her earliest convenience. I will make it financially worth her time.
Seems Jillian Devane had a proposition for her.
Staring at the card in hand, Annie wasn't stupid. She'd heard the woman was in town to get revenge on Nick Harris, boyfriend to Delaney Wilkins and the owner of Harris Hotels. His company was currently transforming Ladd Springs—the other half of Ladd Springs that belonged to Delaney's daughter, Felicity—into an upscale hotel and spa resort for the very wealthy. Nick had signed a 99-year lease to use the land, land that old man Ernie Ladd had refused to sell, instead willing it to Felicity as a life estate. When Ernie died, the land became free and clear to be developed.
"Do you think Jillian Devane wants to build a hotel like Nick?"
Visions of an exclusive wooded retreat for elite guests swam through Annie's mind, guests who would pay top dollar to lose themselves in the mountains of Tennessee, the forests, the natural beauty of the Appalachians. Felicity was barely eighteen and stood to earn a fortune from her deal with Nick Harris while Annie and Casey had nothing but bills as a result of owning their share of the property.
"I don't know. Maybe," she hemmed. Annie knew full well Ms. Devane was interested in building a hotel. In fact, according to Annie's sister Lacy—her direct conduit to all things Ladd Springs—Ms. Devane had looked into purchasing land an hour north of here for that very reason. She wanted to ruin Nick's new hotel by building one of her own. Married to Nick's partner Malcolm Ward, Lacy had the inside scoop and dished it out readily to Annie—because Annie had forgiven the past problems between them.
Leaning forward, Candi grabbed a cheddar-coated chip from a shiny blue plastic bag. "Have you asked Cal about it?"
Annie looked at her friend, ignoring the loud crunching from her mouth. "I don't want to bother him with it."
"Why not? He helped you get the loan to pay the back taxes, didn't he?"
"He did," she acknowledged. Which was easy. His father, Gerald Foster, owned a bank in town and pulled the strings. Not that Cal didn't mean well, he did. Calvin Foster helped, because he was a decent man. As part of the Foster clan, he was a man of means, a man who'd been calling on her ever since his return from Arizona six months ago.
Annie grew up with the Foster brothers. They were four good-looking boys, wild and crazy and always out for a good time with the ladies, although Cal had been the most tame among them. His brother Jack married Delaney, and for a while, they seemed like the perfect couple. It wasn't until Delaney up and left him that everyone in town learned the truth. Jack was abusive. He was a drinker. A mean drunk, at that. After Delaney moved back home with Felicity, Jack left town and Annie hadn't heard a word about him since. Brothers Beau and Clint had remained in town, married, had children, held rank as respectable men in the community. Beau ran the Foster family ranch, acres upon acres of premiere pasture and mountains while Clint worked with his father at the bank, the biggest and most prestigious for miles around. Despite the rowdy reputation forged by the sons, the Fosters were a respectable bunch. They had looks, money, smarts…
Victoria Foster would accept nothing less. A socialite from Chattanooga, Cal's mother came from money and would not allow her move to the small town alter a single aspect of her lifestyle. The Foster estate was grand, the land was beautiful, the four sons were unruly—a fact Mrs. Foster refused to permit injure her standing in the community. It was one of the reasons Gerald Foster was so anti-drinking today. Zero tolerance was his motto, for his boys and his staff.
Although Annie had grown up with Cal, knew him from high school, knew his family through church, she had never thought of him romantically. He was nice-looking enough, but back then she'd only had eyes for Jeremiah. A year after she became pregnant with Casey, Cal had moved to Arizona and she hadn't seen or heard from him until her godmother's big Memorial Day party this past summer. When Ashley Fulmer through a party, everyone attended, giving Cal the perfect opportunity to reacclimate himself back into the community. Annie had definitely noticed him at the barbecue, the two dancing and chatting, erasing the passage of time between them as they began a new path forward together.
Candi pulled a sip from her coke, her cheeks hollowing. "I bet he could come up with an idea to help you earn some money with this woman. Cal is smart that way."
That's where Annie begged to differ. Yes, he was smart, but Cal had become friendly with Malcolm, a man equally invested in Nick's hotel development. If Cal let on to Malcolm or Nick that Annie was even considering a discussion with Ms. Devane, Annie had no doubt the men would be angry. Lacy had given Annie a blow by blow on the history between Nick and Jillian, how Harris Hotels and Eco-Domani were in constant competition and how six months ago Jillian Devane had paid a visit to Fran's Diner, putting Nick on notice she intended to build in Tennessee as well. If Annie worked with Ms. Devane in any way, it would be seen as crossing enemy lines, something you didn't do around here unless you packed two barrels and were prepared to fire them. "Why don't you ask him?" Candi asked.
"I think Lacy and Malcolm would have something to say about it," Annie replied. "Any involvement with this Devane woman will be seen as a betrayal."
"Well, Lacy and Malcolm don't have a say in what you do. They're not helping you make ends meet, are they?" Candi vehemently shook her head and said, "No, ma'am. It's your decision. Yours and Casey's, I mean."
Yes, Casey. Casey was the named owner, but Annie was the designated trustee. When Delaney had Felicity sign over half of the land, she'd stipulated Casey was not to receive control over the property until she turned thirty years of age, or she wouldn't receive the first acre. Because Casey was too young and not ready for that kind of responsibility. Because Casey had a history of instability.
But Annie was ready. Seemed responsibility was all she knew, like it was her whole life. Expelling a sigh, she smacked the business card onto the table. "I don't know what to do, Candi. I only know I wish it wasn't so damned hard."
Annie had finally won the battle—Ladd family recognition for her daughter and the procurement of her rightful inheritance—yet she had no way to keep it. Sure, Cal had helped her secure a loan to pay the back taxes but there would be a new tax bill this fall. In another month, she'd be facing the same dilemma all over again. Her eyes went quickly to the hills out the window. A panicky need to escape weaved through her soul. As it was, she was stretching her last dollar bill to pay the current loan for the taxes. How was she ever going to afford another payment?
Candi scooted close and wrapped an arm around Annie's shoulders. She hugged her close and Annie was grateful for the connection. It was warm, reassuring. Solid. "I know it's hard, honey, but you'll think of something. You always do," she added, eyes shining with encouragement. "You got that paternity test out of Jeremiah, didn't you?"
"I did."
"And the property out of Delaney."
"Yes."
"Well, you can get some money going, too." Candi hugged Annie to her side, a draft of her perfume rising between them. "I know you can."
Leave it to Candi to see the positive in her situation. It was her nature, always had been. Candi was the one who'd encouraged Annie in high school, convinced her to try out for the lead role in a school play, acted as cheerleader when Annie earned straight A's two semesters in a row, even encouraged her to chase after the boy she dreamed impossible to get. Her stomach tightened. Well, she couldn't hold that against her. Annie couldn't see past Jeremiah at the time and he was all she wanted. Now she wanted money. Income. As trustee, it was her job to not only pay the taxes but to ensure her daughter's future. She was entitled to a percentage of earnings for her time and trouble, but they were earnings Annie had to earn first. If she couldn't, all she'd be handing over to her thirty-year-old daughter would be a big fat tax bill.
"I'll talk to Cal," Annie said. "He's looking into some logging possibilities for me. We'll see what he's come up with."
"Logging? You mean to tell me you're going to cut down all the trees?"
Mildly amused by the look of horror pasted on Candi's face, Annie shook her head. "No, only a hundred acres or so. According to Cal, it might be all we need, until I can figure something else out, that is."
"Like how to rent the land to a hotel developer, same as Delaney?"
Annie suppressed a grin. Candi knew her better than anyone. Whether Lacy and Malcolm and Delaney and Nick cared or not, Annie was a survivor first, a group player second. She had to look out for Casey's future, same way Delaney had looked after Felicity's. Now in college, Felicity was set, her future carved in stone. Gold stone, Annie mused, a tinge of resentment curling her heart. Delaney included the section with the gold find in Felicity's half, enabling her daughter to not only earn income from Nick's hotel deal but from selling the gold discovered in a rock, deep in the forest.
Gold. On Ladd Springs. So far, the vein had yielded more than anyone expected and Nick and Delaney were taking full advantage. They were having a local jeweler design a pendant in the shape of a wishing well, a pendant they intended to sell in a hotel boutique store. It was supposed to represent the natural springs on the property, a symbol of eternal hope and spiritual fulfillment. To Annie it represented yet again how she and her daughter were left to fend for themselves.
Annie snatched the business card and glared at the telephone number. "I'm going to call her."
"You are?"
"Yes. There's no reason I shouldn't explore my options."
"That's right," Candi agreed, faithfully manning her imaginary pom-poms as she encouraged her friend. "No reason at all."
"Why can't I lease our property to Jillian? How would that hurt anything?"
"Exactly."
"I mean, if Nick and Malcolm are afraid of a little competition, how good can they be?"
"Now you're talking!" Candi bounced on the cushion beside her. "Why should they have all the profits from a hotel business and not you?"
While Annie couldn't quite share Candi's level of exuberance, a tinge of misgiving squiggling through her belly, she did share her viewpoint. Why shouldn't she be able to use her property any way she saw fit? Would they rather she destroy acres and acres of trees? After all, Nick's claim to fame was his sensitivity to the environment. Wouldn't that make him a hypocrite if he advised someone to log the land instead of build something in tune with Mother Nature?
Gaining steam, Annie decided it was the right thing to do. Casey was stuck in a dead-end job waiting tables at Fran's Diner, and if Annie could give her daughter something better to look forward to, wasn't that what she should do? Her Aunt Fran was sweet to give Casey a job, but that didn't mean she had to keep it for the rest of her life.
"When are you going to call her?" Candi asked.
"Tomorrow." Annie twisted the card in hand. "I'm going to call her tomorrow."
---
Chapter Two
A prickle of concern irritated Calvin Foster's calm as he took in the woman before him. Annie was agitated. Pensive, impatient but more, she was cagey, her pretty blue eyes dodging him at every turn. In Cal's experience, the combination spelled trouble. When a woman withheld information, it was because she planned to use it against you, or planned to use it without you. Either way, it was a lesson he'd learned the hard way but learned it just the same. Cal rolled his shoulders to ease the tension from them. She had invited him over to discuss logging options for the property, but as they discussed the issue, it felt like she was stonewalling. Did she want his help or not?
"Are you alright, Annie?" he asked softly, knowing it was best not to push. Corner a woman and she's likely to strike with an aim to kill.
Sitting on the opposite end of the couch, Annie stiffened. "I'd be better if I had a surefire plan, if I was certain this logging could work."
She gave a quick shake to her glossy black hair, hair that fell straight and thick to her shoulders. Despite the late hour and a full day's work behind her, Annie's skin was ivory perfection against the black turtleneck she wore, her makeup masterfully applied, black eye-liner underscoring the allure of her big blue eyes. Visibly trim in snug-fitting jeans, Annie was the kind of woman you wouldn't miss walking down a sidewalk. She was a striking beauty, one he was coming to adore.
If only she'd let him help her. "You can be as certain as you're willing to be."
She paused, taken aback by the blunt comment. "This isn't easy for me, Cal."
"Never said it was. But you're fightin' harder than a cat pawin' molasses and I'm not sure why."
"Why?" She looked at him with a thinly veiled anger—or was it desperation? "How about I'm financially strapped? How about we're not even sure if we can find a forester interested in logging the property? And if we do, Delaney will most certainly have something to say about it, probably fight me every branch of the way."
"Naw, she won't."
Annie stared at him, her big blue eyes dismissive. "You don't know Delaney anymore. She's not the same girl from high school. She's changed. Hardened."
"Now, Annie. She gave Casey half the property, didn't she? She can't be all bad."
Annie thrust her shoulders back. "Because I forced her hand."
"Annie." Cal eased forward but didn't seek her hand. "I've known Delaney a long time, and while it's true I've been away in Arizona the past fifteen-odd years, it doesn't mean I don't understand where she's coming from. She's a woman, a mother same as you, and she wants what's best for her daughter. I'm sure she'll be amenable to whatever we want to do. It's your land."
Annie glanced away and Cal chuckled. She was spirited but about as unsure of herself as a new born foal. He understood she was struggling financially which is why he offered to help her secure a loan to pay the property taxes. Money matters were easy for him. Back in Arizona, he'd made more money by investing in the stock market in two months than he'd made earning salary in a year's time from the retirement golfing community. It wasn't for everyone but for him, investing was a simple matter of numbers—ratios, costs, earnings—plus a healthy dose of risk. Keeping Annie's confidence afloat going forward was proving to be the bigger challenge.
But Cal Foster never walked away from a challenge. Challenges were what fired life into his blood, gave him a reason to wake up every morning and keep his eye on the prize. Currently, he was in a battle for the prize of his life and it had nothing to do with Annie. When Cal left Tennessee for Arizona, he had expanded more than his horizons. He met a woman, married and had a child—all of which he lost. Much like Annie, his struggle stemmed from poor decisions made before he realized the weight of those decisions. But he'd since learned choices had consequences. Hard consequences, lasting consequences. It wasn't until six months ago he understood fully what those entailed. Annie had a child with a man who wasn't her husband, a man probably not fit to be one, either. Cal had a child, but with the actions of one night, lost all ties to the girl. Regret weighed heavily on his heart.
Reaching for Annie's hand, Cal was thankful she didn't pull away. It seemed they were venturing onto some rocky ground and he had to be careful not to slip due to moving too fast. Slow and easy wins the race. That was his new motto. "Listen," Cal said, "a professional forester will take care of the land, not destroy it. He'll cut only what he needs, cut only from land you agree to log. Delaney won't be able to complain on that count, and depending on which section you choose, you stand to earn near a quarter of a million dollars."
The statement sucked the breath from her. "Quarter of a million?"
He squeezed her hand, her very warm and slender hand. He and Annie had been officially dating for the last couple of months and Cal was ready to take it a step further. Annie was rock solid. She was a good woman, a beautiful woman. If he could help Annie realize a substantial gain from her land, then by God he would. Hopefully, her future was his future. "Yes ma'am, quarter of a million, and I daresay that's enough to pay off your loan, cover the taxes for a few years to come and provide you and Casey with a comfortable lifestyle—until you decide what you really want to do."
Cal believed that's what was driving Annie's insecurities. She was floundering, floatin' like a duckling without its momma. It was a sentiment that Cal understood. He, too, was ready for change, a new road to travel. He'd come home to Tennessee for that very reason, and while he hadn't found it yet, it didn't mean he'd given up looking. Same went for Annie. Patience. That's all she needed.
She spewed a sigh. "A quarter of a million dollars… The things we could do with that money."
Struck by the sheer intensity of her gaze, Cal laughed. "My God, woman, you look like thoughts are ricocheting off the walls of your brain!" She flashed those gorgeous blue eyes of hers his way and he roped them in, best he could. "That's a compliment, darlin'." Chuckling to himself, Cal thought yes, Annie Owens definitely reminded him of his horse-training days. She was a feisty mare that needed coaxing by a cool head and a soft touch. Luckily, it was Cal's specialty.
"Is it really worth that much?" she asked.
Cal leaned near. "Depending on the grade of timber, your profit might even go higher. It all depends on which trees they cut and who they sell them to. You might even ask they set aside a few logs for you and Casey to build."
"Build?"
He smiled, darting a glance to her lips, her very lush lips. Lips that were full and glossed with a hint of pink, lips he could kiss right this minute. "You want to live on the property, don't you?" Cal assumed that's why Annie had fought so hard to acquire the title. Casey was a Ladd. She was part of the family. It made sense she'd want to live on the land of her ancestors, even if her kin weren't right friendly. It didn't matter. Family was family. Blood ran deep through the heart of the South. One only need ask his brothers how cantankerous relations could be, between stealin' kisses from the sweetest girls in school to bar room brawls with the toughest thugs in town, the Foster boys were known for their turbulent relations with one another and the community at large. Folks called it a "reputation." Cal and his brothers used to call it "plain fun." The boys had their disputes, but never once did they question their loyalty to family.
At Annie's reticence, Cal repeated, "Isn't that what you're after?"
She slumped back against the cushion and placed a palm to her forehead. "I don't know."
The tortured quality to her voice pulled at him. A mix of want and need tangled with a mess of doubt Cal didn't quite understand. "What's holding you back, Annie?"
From across the sofa, she looked at him, and that's when he caught it. A sliver of reluctance passed behind her eyes. She was holding back. There was more to her story than she was saying. Cal could recognize a holdout when he saw one. There was always a clue, a shift in the eyes, a slant in the gaze. A hiccup, a blink, but the guilt was there just the same. "Talk to me, Annie. Tell me what's going on."
As though balancing a fine line between truth and evasion, Annie hesitated. "Everything is happening so fast. Nick and Malcolm have been staking those orange flags everywhere, marking their territory like two dogs on a Saturday night. Did you know they've already drawn up plans for the hotel, restaurant—everything? According to Lacy, all they need now is approval from the county and they begin building. Building!"
Cal leaned back, extending an arm the length of the sofa. "Well, it's not their first rodeo. Why, I've seen entire communities pop up out of thin air in the desert and they were nothin' to scoff at. Mighty nice homes, too, so I know it can be done. All you need is money and experience."
"And they have both."
"They have both," Cal agreed. Was this the crux of her displeasure? Money? Delaney and Lacy had it and she didn't?
Well, he could tell her a thing or two about money. It didn't fix everything and he had an ex-wife and a police record to prove it. But if money is what Annie needed, then money is what he was going to see that she received. "Why don't you let me talk to Delaney and discuss matters right calmly? Then I'll call a forester friend of mine. He's been in the business twenty years and is the best of the best. Why, you give him the okay and you could have your money by Christmas time."
Annie's eyes widened. "That soon?"
Cal nodded.
"Wow." She allowed her gaze to drift. "I guess I have something to think about."
"Do you need to discuss it with Casey?" Cal wasn't exactly sure how the trustee agreement had been written. Did Annie have sole control over what she could do with the land or did she have to consult her daughter?
"I can't sell it without her approval, but I can decide what happens with it until she's of age to receive it in full."
Cal slapped hands to knees. "Alrighty, then. Sounds like we have a plan."
Annie slid him a sharp glance. "Thank you. Thank you for all your help with the property. I think I'd be lost on my own."
The abrupt change pleased Cal. While he liked Annie's strong and spirited side, he liked her sweet and soft side even better. "You don't have to thank me, Annie, I'm glad to help." At her quick smile, he relaxed back into the cushion and sidled up next to her, pulling her close. "Now how about you tell me what else is on your mind?"
A small smile crept onto her lips. "Am I that transparent?"
Cal grinned, relishing the ejection of tension from her deep blue eyes, he replied, "You are to me." Breathing in the scent of her, he picked up hints of a faded perfume. Leaning close, he brushed a sweep of silky hair behind an ear punctuated by a large silver hoop. He traced a finger around it and she sighed. Staring out into the sea of night, he wondered what was going through her mind. Cal interlaced his fingers through hers and her gaze mellowed, her pupils swallowed whole by the luminous glow of a nearby lamp.
"I want something to do, Cal. I want something exciting, challenging."
"More challenging than paintin' all those pretty nails?" he teased. Annie clamped her lips, but he gently shook her. "Aw, c'mon Annie. You know I'm just having fun. I think you're the best in the business, but I understand what you're saying. The same goes for me. I need a new direction. I've been helping my Daddy out at the ranch but all he keeps trying to do is lasso me into the bank. It's not what I want to do."
"Did you not like working in Arizona?"
"Arizona was real fine, but once you sold one house, you sold them all."
"I thought you managed the community."
"I did, eventually, but even then it was all the same. Selling, or managing the selling, all began to feel the same. It made me itch for something new." He paused, allowing a swell of regret to pass through him. He might have been bored with his work life, but not his personal. At home, he'd been happy. He loved his wife, loved his daughter. Unfortunately, it was they who got their fill of him. He tamped back a swell of regret. "I want to try my hand at something different. Ever since I gave up the drink, I've been driftin'."
"Is it hard for you to be back home?" she asked. "You know, with all the memories? Your brothers?"
Cal shook his head. "Not really. Not when you've changed your heart, it isn't. Now if I was still struggling with it, sure. But I'm not." He couldn't afford to struggle with the bottle. He had too much riding on his sobriety back in Arizona, and he was determined to make things right. Moving back to Tennessee was his chance to prove himself, prove he could remain sober, hold down a job, and be the man his daughter needed him to be.
"What do you think you want to do?" Annie asked.
"Not sure." And that was the hardest part of all. Cal had no burning desire to do anything. He loved working with horses, but he was getting too old to spend every day in dusty corrals and pens with wild stallions. He liked investing money. Found he had a knack for it, but he didn't want to invest other people's money, only his own. Cal didn't know what he wanted to do and that was his problem. A problem he needed to solve. Proving he could walk the straight and narrow meant getting his life back—the most important piece, anyway. His wife was through with him. She'd moved on and Cal didn't blame her. But his daughter was a different matter.
Emily needed him and he needed her.
"Seems we both have a lot to think about," Annie murmured.
Cal nodded. "Agreed." Why Annie had to withdraw her hand from his was perplexing. Did she want those thoughts of hers to include him?
---
Chapter Three
Annie walked her last client of the day to the receptionist's desk and caught a glimpse of a dark-haired woman walking in the front door. Long black hair fell in a straight, sleek line behind her back, her very narrow back. She was almost a stick of a figure, draped in gold jewelry and expensive leather jacket. As she neared, Annie noted her lips were glossed a tawny brown, a sheer tone that melted into her brown skin. But it was her eyes that leapt out at you. Cat eyes, turned up at the ends, or maybe it was the heavy black makeup that created the effect. Annie guessed her identity in a heartbeat. Jillian Devane. She had to hand it to Lacy. Her sister had described the woman perfectly. Wealthy, stylish, she looked right at home amidst the ultra-modern interior of the Trendz salon with its minimalist black and white design and cool blue ceramic lamps hanging overhead in the way of lighting.
Annie turned to her client. "Bobbi Jo will get you scheduled for next time, okay?" The woman smiled and the two hugged. "See you then."
Ms. Devane hovered near the desk, waiting her turn to speak with the receptionist. But there was no need. Annie extended a hand. "Ms. Devane?"
Jillian noted the gesture with a knowing smile, as though fully aware Annie had been forewarned of her intentions. "Ms. Owens," she purred in a heavy Spanish accent. Her voice was smooth and sultry, and rather deep for a woman. As they shook hands, Annie marveled at her slender grasp, fine-boned yet firm in its connection. Her skin was silky in texture, her nails professionally maintained. Annie knew from experience that an older woman didn't retain the supple skin tone of youth without professional care. Gesturing toward her nail chair, she said, "Thank you for coming."
"The pleasure is all mine, I assure you."
Annie didn't doubt a word. She could feel the woman's claws sinking into her in a most visceral way. Ms. Devane was here for the kill, there was no mistake. Second thoughts flooded Annie's gut. It was an attack she had invited with a single phone call, a willing phone call. "My friend told me you were asking about my daughter's half of the property."
"Yes," the owner of a hotel empire replied, sliding her gaze around them as though making sure the path was clear when she pounced, "I understand you are the one in charge of the property."
Annie cleared a rush of nerves from her throat. "I am." While she might be intimidated by this woman, she wasn't going to let on to the fact.
Jillian smiled and moved closer. "As you know, I am in the owner of Eco-Domani, the number one hotel spa company in the world where we pride ourselves on working in tune with nature. It is my business to build hotels—fantastic, beautiful hotels—that seamlessly blend with the land around them, allowing guests to lose themselves in the luxury of nature." She slowly circled Annie, taking note of her white leather nail chair and black ottoman, a line of shiny bottles filled with a broad spectrum of nail enamels that comprised Annie's nail station. "Your property is incredible in its beauty and location, and I should like to work with you on how to make it the number one destination in the world. People will come from all over the world to visit your mountains and woods, seeking to become at one with your land. By selling, you will become wealthy beyond your wildest dreams."
Ms. Devane dripped with extravagance when she spoke, pulling Annie in with her lavish description and promises, as she created a dreamy vision with her talk of lavish hotels and land conservation. It was easy to see how this woman could spin a person into her web, sucking them clean without spilling the first drop of blood. Annie shook off the elaborate images and asked, "Haven't you already purchased property for your hotel?"
Plunging into a shrewd smile, Ms. Devane's flinty eyes grew calculating. "So we don't play any games, okay?" She straightened her slim frame and stood eye-to-eye with Annie. "I will tell you that I am still looking, but I'm most interested in your property." She tipped her head and glanced askance. "I'm willing to pay you handsomely for it," she said, then dropped all pretense, pinning her with a hard gaze. "Am I to take this meeting as a yes?"
Stunned by how quickly the cat turned lion, Annie hesitated. She hadn't decided anything because she hadn't heard anything! Darting a glance to the drips of blue lighting overhead, she felt suddenly heated, despite the salon's contrived ambiance of calm. "What are you proposing?"
Jillian smiled. "What do you want?"
Annie had no idea. She didn't know what the property was worth, other than what the tax assessor said. But Cal had explained to her that the tax assessed value wasn't the market value, only the amount she was paying taxes on. If she were to sell, the amount would be much higher—which made no sense to her. How could there be more than one value for the same property?
Staring at Jillian Devane, Annie felt the hairs of doubt tickle her neck. She was out of her league, swimming upstream and losing her kick. "I haven't decided, yet," she said quickly, preserving an image of authority. She might not know the value of the land at the moment but she certainly wasn't going to let this woman make her look like a fool.
"I'm willing to offer you five hundred thousand dollars for the entire tract of land."
Annie gasped.
Jillian smiled, a gesture that never reached her eyes. "But of course," she rolled out, "you need time to consider your options."
Five hundred thousand dollars? The amount staggered Annie, ringing in her ears like a church bell on Sunday afternoon. Five hundred thousand dollars. All hope for sounding fancy and sophisticated shot clear out the door. "Yes," she stammered, her jelly-boned legs threatening to collapse beneath her. She balanced herself with a hand to her nail chair and said, "I have other things to think about. Can I call you tomorrow?"
"Yes. As a matter-of-fact I'm enjoying myself in your country town and will be here for a few short days. After that, I must close the deal on my other property," she said pointedly. "Once I do, I'm afraid there will be no more room for discussion with you."
Annie felt the punch. She'd been put on notice. Hurry up or Eco-Domani money goes elsewhere. "Yes," she said, fumbling for self-control, confidence, anything to shake the tremor in her voice! "I understand."
"I hope that you do." Jillian smiled richly. "I'd hate to see you miss out on the opportunity of a lifetime."
A cell phone rang and after a brief moment, Annie realized it was hers. Jillian watched with interest as she answered the call. "Hello?"
"Annie, do you know where Casey is? She hasn't shown up for work yet, and the dinner crowd is already shuffling in."
"I'm sorry, Aunt Fran." Fran Jones was Annie's aunt and the owner of Fran's Diner, a staple in town. She'd given Casey a job—one the girl obviously didn't value—and was now looking for her. Annie eyes dodged those of the appraising Ms. Devane, embarrassed by her daughter's lack of responsibility. "I'm sure she's on her way. Can you give her a few more minutes?"
"Well, she'd better get her quick. I'm short a hand tonight, because Jimmy called in sick."
Candi's nephew. He also worked at Fran's Diner and minus the two of them Annie knew the kind of pinch it would put her aunt in. The commotion of the kitchen in the background, the usual din of a busy restaurant, sounded as though the Friday night dinner rush was already in full swing. "I'll run by the apartment and see if she's home. Maybe she forgot her shift," Annie defended weakly.
"She better start remembering 'fore I fire that child!" Fran hollered into the phone.
"I understand," Annie replied, feeling a flush at her neck and cheeks. She'd never been late for a single day of work in her life. Not at Trendz and not at the salon before it. The fact that Casey was skirting her responsibilities ground Annie's last nerve into the pavement. Ending the call, she said to Ms. Devane, "If you'll excuse me, I have to go."
The woman's face lit up with a smile. "Of course. I understand the stress of raising a child by yourself," she said thickly, her accent mumbling through the last word.
Annie didn't think Jillian had children, let alone the first clue about struggling. By the looks of the jewelry hanging from her body and the money she was throwing around, it was clear Ms. Devane had the resources to pay other people to worry about her troubles. Suddenly irritated, Annie said, "I'll call you tomorrow."
"Yes. Tomorrow."
Annie raced home as fast as she legally could, anger building with every mile she drove. If Casey was at home, the girl was going to wish she was at the diner—Annie was gonna string her up by her toes! She and Casey had been going through a rough time, but to put Fran in a bind when Casey knew she'd been nice enough to give her a job in the first place?
It was completely inexcusable. Banging a fist to the dashboard, Annie jabbed at the lighted arrow for the vehicle's heat. She'd dashed out of the salon so quickly, there was no time to warm up the car and it was cold! Cold as a cast iron commode in the winter, she thought. Cold as Ms. Devane's intentions as she tried to force Annie's back against the wall. I'd hate to see you miss out on the opportunity of a lifetime. Beneath her fancy sympathetic words lay a lizard tongue. That woman was slick in her manipulation and Annie didn't care for her one bit. But the money she was offering couldn't be ignored. Half a million dollars? Did that woman know what Annie and Casey could do with that kind of money? They could live comfortably, buy a decent car. Maybe with her share, Annie could afford the down payment for a salon. Candi had been dying to get her own place. They could be partners! Candi would take care of the hair, Annie would take care of the nails. Why, she could even afford to send Casey to college if the girl would screw her head on right and stop battling the world. Casey had her entire future to look forward but instead she was stuck in the past.
Because of Jeremiah.
Casey had been so angry to learn he was her father, she'd rejected him outright. The minute Annie revealed the news, Casey screamed and cried and pitched a fit—none of which Annie could blame her for. Shame skulked in, coursed through Annie's veins. She didn't much care for Jeremiah either, regretting she ever slept with the man in the first place, though she didn't regret having her daughter. Casey was the only bright spot from the affair. A wave of ambivalence washed through her. Just because they were having their difficulties at the moment didn't mean she didn't love the girl. She did. Casey was the most important person in Annie's world. She only wished they had an easier go of it, but Casey was troubled.
Annie's sister Lacy was fast becoming a crucial part of her life, too, but it was slower going. Getting over Lacy's betrayal with Jeremiah had been difficult. It wasn't until Annie let go of the hate, realizing her sister had been a mere child at the time, that she was able to begin the process of forgiveness. At the time Lacy ran away, she was younger than Casey. Headstrong and free-spirited, she had yearned to break free of her small town and see the world. Unfortunately, she thought Jeremiah was her escape route.
Lacy had been wrong. Like Annie, she had chosen the wrong man to hitch her wagon to and paid the consequences. When Annie learned the details of Lacy's life since leaving Tennessee, her heart split in two. Her sister might have made some poor decisions, but she didn't deserve to be abandoned by Jeremiah in a big city like Atlanta. Annie shuddered, and this time it wasn't from the chilly temperature. Lacy had it rough yet she bounced back and bore hardly a scar. A smile pulled at her mouth. In that regard, her sister was amazing.
Thoughts of forgiveness diluted Annie's anger. Expelling a sigh, she turned onto the road for her apartment complex. Casey was young and headstrong, too. Her rebellion stemmed from choices she didn't make, situations and circumstances beyond her control. Remorse twisted Annie's insides. Most of what Casey rebelled against wasn't her fault. It was her mother's.
They were facts Annie couldn't change. She could only move forward and do the best she could. Thinking back to her conversation with Jillian Devane, Annie wondered what the right thing to do would be in her current predicament. Cal said the logging could bring in a quarter of a million dollars. Ms. Devane offered double that amount. Excitement flitted across her breast. Would a sale on the open market bring even more?
She didn't know, but these were definitely things she needed to discuss with Casey. After all, it was herproperty. The decision rightfully belonged to Casey, though it was crazy how quick a mind could get infected when tempted with big dollar signs. Big dollar signs. Huge. Half a million dollars would change their lives. Pulling into her assigned parking space, Annie cut the engine and wrapped a thick scarf snug around her neck. Stuffing the rising tide of greed back into its corner, she tightened the belt around her coat, braced against the chilled damp mountain air and hurried up the stairs. Cold metal keys jangled in her hand as she tugged them from the door. Flipping on a light switch she called out, "Casey, I'm home!" Closing the door, Annie surveyed the contents of her apartment. Sofa, table, television, all were clear, the room silent. She walked farther into the living room, dumping her purse on the dining room table. "Casey?"
No answer.
Surprised, Annie walked down the hallway to her daughter's bedroom, an uneasiness setting in. Casey had attempted an overdose once before. Had she done so again? Her pulse jumped wildly out of control as Annie yanked open her daughter's bedroom door. "Casey?"
Annie's heart leapt into her throat. There was nothing. No Casey, no nothing. Had she gone to work? Had she gone out?
A dreadful thought seized her and Annie rushed to the bathroom, whipping open the door. Again, no Casey, no nothing. Annie focused on the vanity. No toothbrush. A looming sense of apprehension choking her, Annie marched back to the dining room and dug into her purse for her cell phone. She dialed Casey's number but there was no answer. Next, she called Fran.
"Fran's Diner."
"Fran, its Annie. Did Casey show up for work?"
"No, darlin' and I'm going crazy busy right now."
Fear fired hot in her chest. "Well, she isn't home, so I don't know if she forgot or what happened," she said, unable to erase the empty toothbrush holder from her mind.
"Tell her to call me first thing, will you? Right now I've got to go."
"Yes, sure. Will do," Annie replied, but Fran had already hung up the phone. Ending the call, her hand began to tremble. Casey, where are you?