2nd Annual Authors in Bloom Blog Hop!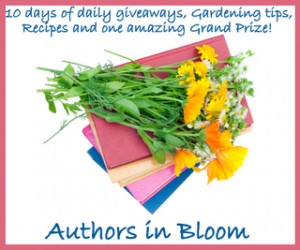 Welcome to the Authors in Bloom Blog Hop where some of your favorite authors & bloggers share their gardening tips, recipes and give away prizes!  As many of you know, in addition to my romantic fiction, I write a garden blog called BloominThyme.  What began as a victory garden (when victory gardens were cool :)) has now blossomed into a full-fledged hobby.  I love gardening!
I mean, who doesn't love to be among flourishing beds of lush leaves, plump fruits and colorful vegetables?  From the bright fiery shades of hot peppers to the calming lavender of maturing black beans, my garden provides a glorious array of eye candy followed by a belly full of sweet harvest.
Okay–while that sounds wonderful and delightful, I've learned gardening doesn't always work out so "gloriously."  Sometimes the weeds take over, the tomatoes rot, the broccoli bolts, the ants eat the potatoes…  You get my point.  But once you learn a few secrets of the trade, you'll be off to the hardware store buying a slew of lumber for your produce stand.  You're gonna need it–especially after you've perused the myriad of gardening tips and fresh recipes over the next 10 days.  And remember, if my compost pile of oak leaves can grow sweet potatoes and parsley all by itself–so can you.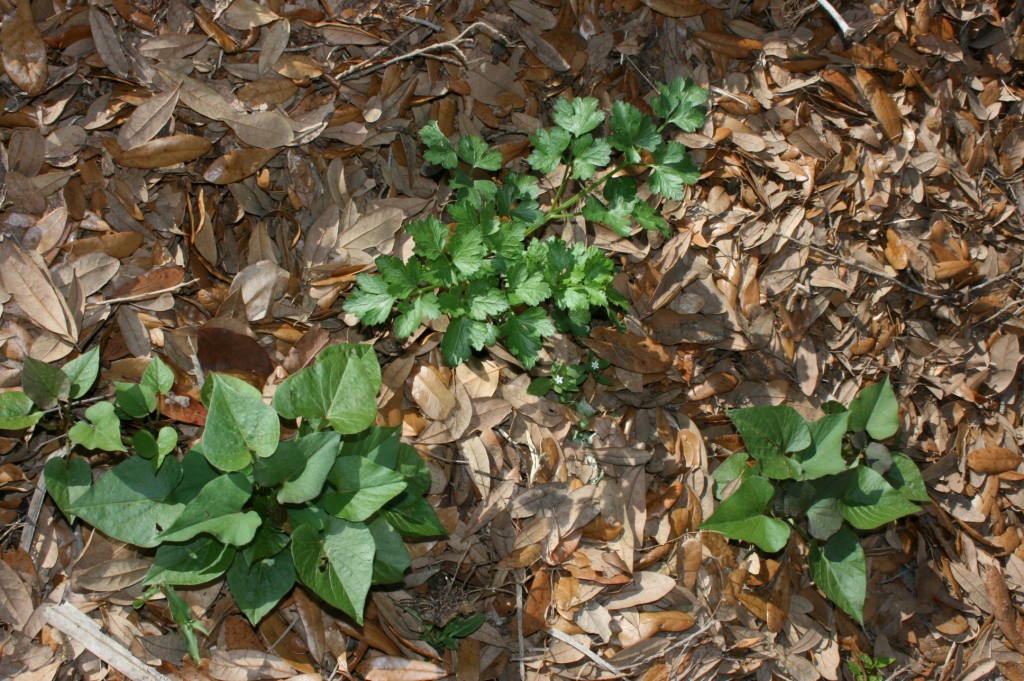 Now for my tip:  for vigorous growth in your garden, try adding mushroom compost.  I don't know what it is about this stuff, but I've never had sweet peppers grow so big and beautiful as I did when I amended my soil with mushroom compost.  It's inexpensive, too, if you have a mushroom processing plant nearby.  We purchased a trailer bed full for $10.  Yes, you read that right.  Ten dollars.  Check your local listings–you might be surprised!  For a start, see if our Monterey Mushrooms has a plant near you.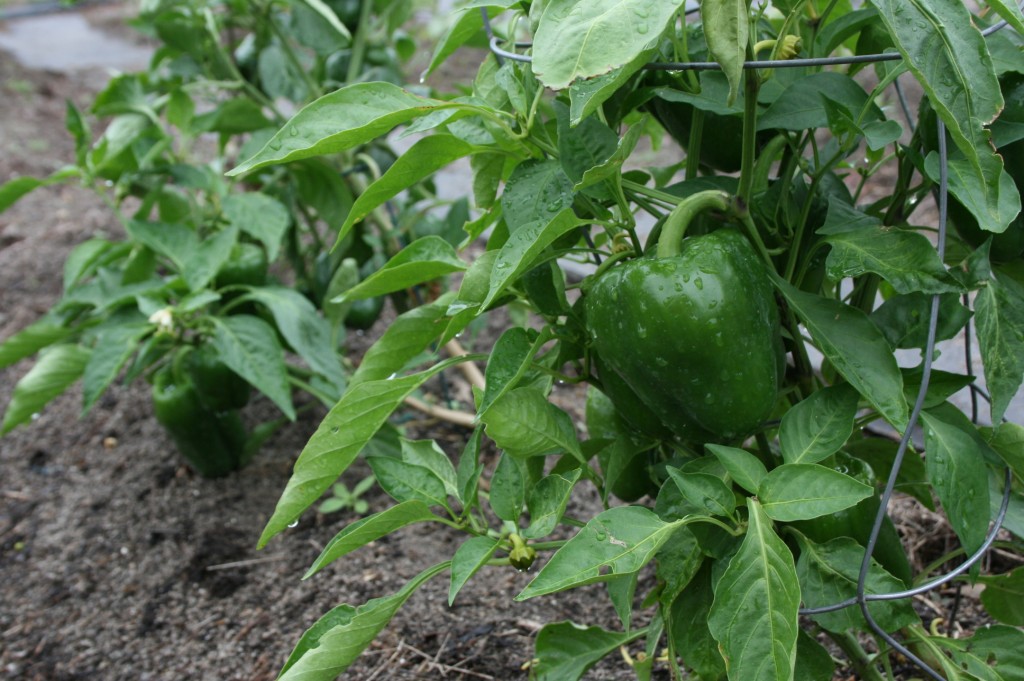 While you're gathering tidbits of wisdom, you'll earn the chance to win some really great stuff–like a copy of my latest release Ladd Springs for your reading pleasure after you've tended your garden and these beautiful Bloem Boxes filled with seed strips for your garden.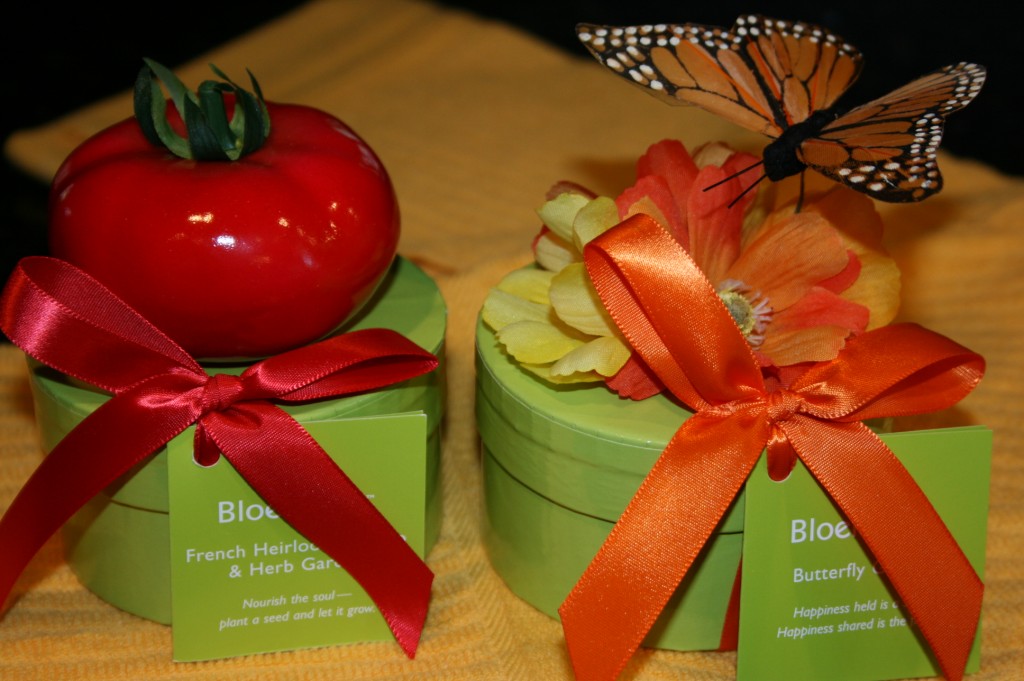 For vegetable lovers, you'll adore the Heirloom Beefsteak  Tomato 'Super Marmande', Basil 'Genovese' and Italian parsley set.  If you're not into vegetables, it makes a great gift for the gardener in your life.  For added beauty in your world, the butterfly garden box comes complete with Orange Cosmos, Dahlia Flowered Yellow Zinnia and Red Annual Phlox to attract those ethereal creatures your way.  Each box contains three 5′ seed ribbons made of plantable biodegradable tissue paper filled with premium seeds for effortless planting.  How's that for easy? (Retail value $40)
Grand prize:
Ereader (Kindle or Nook) and $25 gift card (Amazon or Barnes & Noble).
Keep them both or share them to the delight of your friends!  To enter my giveaway, leave a comment with your contact info, follow me on twitter, facebook or subscribe to receive email notifications from my website, ensuring you stay up to date on the next release, Ladd Fortune….coming June 2013.  Once you leave a comment, you'll be eligible to win our grand prize!  The more sites on the hop you visit and leave a comment, the better your chances to win–so don't miss a single one!
For added fun, join my Facebook party going on now!  It runs through Sunday and will be filled with tidbits about Tennessee (setting for Ladd Springs), more gardening tips/recipes and of course–giveaways.  You can also take part in naming an upcoming horse in the series, as well as a character's favorite southern comfort food.  Mmmm…we'll start with cornbread and take it from there. :)
Interested in joining my street team whereby you'll receive special promotions, swag, sneak peeks and the like?  Subscribe to my website for email notifications and be the first to know about upcoming releases and news (found at the upper right hand of my sidebar) and your invitation will be "in the mail!"  Full details can be found on my Bloomin' Warrior page. 
And the winner is…
Congratulations, Christine! And a huge thank you to everyone who participated. :) It was fun and we hope to see you next year!