Current Release
Not Without You
Book One, Silver Creek Series
Grad student, Lisa Richardson, scours the high country in search of her beloved boreal toad. The amphibian is in danger of extinction, a fate she is determined to change. Single-minded in her focus, Lisa doesn't realize that she's being followed by a mysterious stranger.
Enter McIntyre Walsh. Ex-marine with a heart of gold, this man lives and breathes duty. Protection. Content with his self-exile on a mountaintop in Colorado, he inadvertently witnesses a female hiker in danger, a situation he cannot ignore yet is unable to rectify. When their paths cross, Lisa and Walsh refuse to stray from their avowed goals and carry on–despite the other.
It isn't until a killer ramps up his game that both are forced to relent. Battling the rugged terrain of the Rocky Mountains and an undeniable attraction between them, Lisa and Walsh must work together against the odds if they intend to get off the mountain alive.
"The adventure they encounter with a killer on the loose is daringly exciting! The ending when Walsh & Lisa got together was not how I expected it to come together but it was a great ending to a great book. Looking forward to the next in the series!" ~ 5 stars – Amazon review
"The author describes the scenery so well that I could (and did) imagine myself climbing the mountains, listening to the sounds of nature, and putting my hands into a cold stream." ~ 5 stars – Goodreads review
Current Release
Ladd Christmas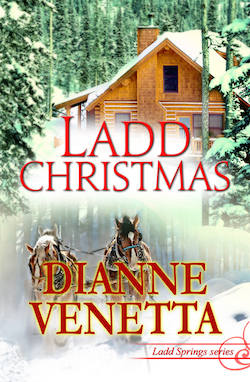 A Ladd Springs Holiday Story
Just in time for the holidays…
Ladd Christmas reunites your favorite characters from the Ladd Springs series with a blend of challenge, faith and love…and new beginnings. Watch for it November 11th.
After traveling the globe on an extended honeymoon, Nick and Delaney Harris have returned home for Christmas. Eight months pregnant, Delaney can't imagine being anywhere but Tennessee when she gives birth. Nick is more than happy to oblige, now that he feels certain he's found the location for his next eco-resort. But with his wife on the verge of delivery, Nick must convince his partner, Malcolm Ward, to travel halfway around the world and continue to lay the groundwork for their new development–in New Zealand.
To share the news, the Harris' invite the extended family for dinner, including a troubled Ashley Fulmer. Seems her husband has gone missing in Arkansas, a crisis magnified by the state of his health, and a blizzard sweeping across the country. Determined to support Ashley in her time of need, Delaney works overtime to create a festive holiday atmosphere. But when the family falls victim to the weather and find themselves snowed in for Christmas, Delaney faces a crisis of her own.
"One of the best Christmas stories I have read. I hate to see the Ladd series end. It really shows how families and friends can pull together under very unusual circumstances. I recommend the entire Ladd Series to everyone who enjoys good reading." ~ 5 star – Amazon review
"This is a heartwarming wonderful story about family and friendship. It proves you don't have to be related by blood to be family." ~ 5 star – Barnes & Noble review